So I should admit this was actually the first card book I made. I sent it to a friend for her birthday but wasn't sure if she had received it yet, so I did not want to post it until I was sure. At this point enough time has passed and hopefully it arrived safe and sound. I once again used the Stack the Deck binding system to make six pockets which fit six cards and envelopes inside. The cover and folders are covered using Basic Grey's Fact and Fiction lines. It is possible that the clouds are from a different Basic Grey line. I love the whimsy of the clouds and kite for the cover.
I did not get a good picture of the cards I included in this card book. I used six cards from Pebbles Card Making pad and stickers from Elizabeth Craft designs for the cards.
I absolutely love the Pebbles Card Making Pad. Each pad contains 36 cards that are pre-scored and you can just tear out from the pad. Each card is blank on the inside and the outside is a fun basic pattern. Each pad contains nine different colors,two patterns for each color and two of each card.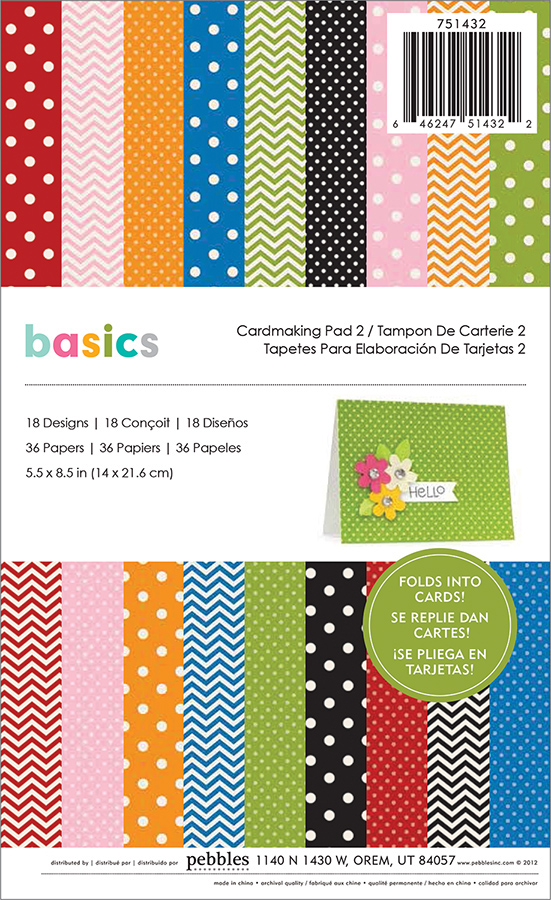 The patterns include chevron and polka dots. They are great basics and for a card maker like myself, these card pads are a must have. I bought both the primaries and the brights color pads. They can be purchased at
www.pebblesinc.com